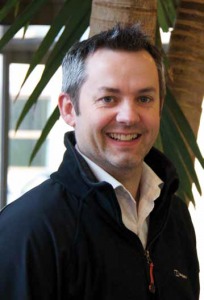 Richard Watson
Landscape Manager
What I do
I oversee Center Parcs' forest strategy to maintain and enhance wildlife and habitats at all four Center Parcs villages in the UK.
Some of my work is office-based, making sure things like roads, footpaths and walkways are maintained or rebuilt accordingly. I also work closely with the grounds services team at each village who put our ideas into action on a daily basis. Each grounds services team looks after and monitors each individual species, such as the red squirrels at Whinfell Forest, which are extremely important for us to protect.
How I got my job
Like many people, I wasn't sure what I wanted to do when I finished school. I studied current affairs at university and after graduating I worked as a barman at Longleat Forest. I transferred across to the grounds services department within six months and realised that's where I wanted to stay. I worked my way up from Grounds Assistant to Grounds Manager and six years later I took on the role of Landscaping Manager at head office.
What I love about my job
Center Parcs has allowed me to move and grow with the business. Center Parcs' passion and love for the environment, ecology and the forest means that I can make a real difference and really enjoy what I do.
What's difficult about my job
The variety of tasks brings excitement to my job. Each village is unique, so from a landscaping point of view, each has different requirements and challenges. On one hand, we're recording the new species living at Woburn Forest and on the other hand we're making sure that the roads that have been at Sherwood Forest for the last 25 years are resurfaced. We also have to consider that what might be right for one village may not suit another village's species or habitat.
Where to start?
It's simple: just take an interest in the environment and things around you. There are plenty of groups that you can get involved in, which will help you understand what direction you would like to go in. There are lots of different routes you can take, so it's important to experience as many different aspects as possible. A way of doing that is through volunteer groups; you can learn more about wildlife with Wildlife Trusts, get a taste for ecology with the British Trust for Conservation Volunteers or find out more about sustainability on a work placement with an energy company. This will certainly give you a better idea of the college courses and training that would be best for you.