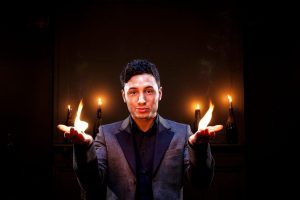 Oliver B
Magician
What I do
I am the founder and CEO of ClassofMagic.com – an online magic club for children aged seven and upwards. I am also a professional magician, entertaining weekly at private, celebrity and corporate events across the UK and worldwide.
How I got my job
I began my career at Hamleys toy store demonstrating magic. I moved onto children's parties while eagerly pursuing a career entertaining top-end clients and companies. I invented ClassofMagic.com when I realised the numerous benefits of learning magic. For example, helping children with their confidence and performance skills.
What I love about my job
I love making people feel amazed and putting them in a great mood. I love that my workplace is often where people are celebrating or being awarded something. I consider myself very lucky to have found a career I enjoy so much.
What is difficult about my job
At some events there are hundreds if not thousands of guests, which makes entertaining everyone a big challenge, unless I am doing a stage performance!  Sometimes the volume at events can be very loud due to the band/DJ/number of guests, which means I have to resort to performing very visual magic, as the ability to interact with people becomes more difficult.
What skills I need
The main things needed to become a magician are a combination of skills with small objects, confidence in performing, a determination when learning new magic, charisma, plus the ability to keep your audience engaged and entertained with what you are doing. 
Where to start
You can visit ClassofMagic.com, which provides a series of magic tutorials using everyday objects. You could join the Magic Circle's Young Magicians Club, or buy a book or DVD on magic. However your magic journey begins, always remember one thing – do not practise until you get it right; practise until you CANNOT get it wrong!