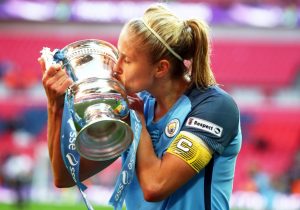 Steph Houghton
Professional Footballer
In our series of online films, you'll see lots of different people doing lots of different jobs – and maybe your dream career will be in there somewhere! For our latest film at Manchester City, we had a chat with Steph, who captains City and England.
What I do
I am a professional football player for Manchester City and England.
How I got my job
I began playing professional football with Sunderland when I was 14, and since then have played with Leeds United, Arsenal and now I'm captain at Manchester City. To be selected for the team and ensure I can help us win, I need to make sure that I'm always playing at my best and that means putting in hard work and being committed every day.
What I love about my job
Having the opportunity to inspire young girls to pick up a ball and play the game is an amazing part of what I do. I've also made many friends playing football and I am so grateful to have been able to meet them through football.
What is difficult about my job
Playing in the rain can sometimes be difficult, but I love what I do so much that in the end it doesn't matter.
What skills I need
With football, the specific skills you need to be good at depend on the position you play in. But no matter what your role on the pitch is, it's important that everyone is a team player, works hard to prepare for every game and doesn't give up.
Where young people should start if they want to do the job, too
You just need to pick up a ball and start playing. It's all about having fun and never giving up, even if it at times it might seem challenging.
How do you think your job could change in the future?
Women's football is growing every day and I think anything is possible. I hope in five to ten years even more people are watching and playing football.