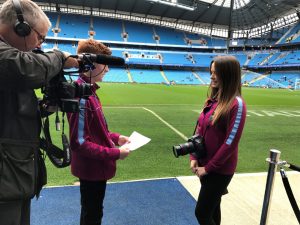 Victoria Haydn
Photographer
In our series of online films, you'll see lots of different people doing lots of different jobs – and maybe your dream career will be in there somewhere! We spent some time at Manchester City recently, and the first person we met was the official club photographer.
What I do
I am Manchester City's Senior Club Photographer.
How I got my job
I studied an art and design BTEC National Diploma at Bury College and went on to gain a first class BA (Hons) degree at Blackpool College. I then did lots of work experience until I gained the confidence to begin applying for assistant photography jobs. When I had a large portfolio, I applied for a photographer internship at Manchester City and got the job. I have been here for five years now and still love every day!
What I love about my job
I love that it's fast-paced and exciting! There is always something going on in football and it's wonderful to be part of the Manchester City family. There is definitely never a dull moment!
What is difficult about my job
You have to be aware always of new and emerging technologies in photography. We have to research and be prepared to change and adapt to every new social media platform that could emerge. I'm so proud of the images that we produce. 
What skills I need
Your biggest strength must be in the art of communication. You have to be able to make people feel at ease so that they are comfortable in front of the camera. You do not need qualifications at all but you do need a great understanding of the camera that you use, to ensure that you have full control of how the final photograph will look.
Where young people should start if they want to do the job, too
Just get out there and start taking photos – anything and everything! Start small projects of your own that you are passionate about, whether that is photographing your pets, sunsets, people or textures. Photography is all about creativity and there is no right or wrong answer to it. Explore your creative side and see where your photos take you. 
How do you think your job could change in the future?
In the future, photography could change in lots of ways. For example, new social media channels could be created that may need a certain style of imagery.It's exciting to see where it may go.