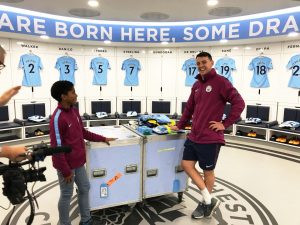 Alistair Marland
Kit Manager
In our series of online films, you'll see lots of different people doing lots of different jobs – and maybe your dream career will be in there somewhere!
When Manchester City's players and coach turn up for a game, it's the kit manager's job to make sure they have all they need. Follow us into the dressing room…
What I do
I'm the kit manager at Manchester City. My job is to ensure the players and staff have all their kit prepared and ready for training and match days.
I arrive at work early in the morning to sort shirts, shorts and boots, and put all the staff and players' kit out. I also blow the footballs up, get all the dirty kit and send it over to the laundry and clean the boots.  One of my major tasks is ordering all the new kit for the next season; it's a big responsibility to have.
How I got my job
I went in to help the kit man at Bolton Wanderers in my early teens, as I loved football, and then he offered me a full-time position, which was great. From there I was fortunate enough to be offered a position at Manchester City, and obviously you can't turn down a club like Manchester City!
What I love about my job
My team and I are in a fortunate position, as we get to travel the world, meet lots of famous footballers and see everything first-hand. It's quite an important role in the club and I love it. I'm first in and last out, and always have a smile on my face.
What is difficult about my job
It is important to be organised, to ensure each player and member of staff has everything they need to do their job. With that comes a lot of pressure to ensure nothing is forgotten.
What skills I need
You need to be organised, dedicated, on time, always smiling and have a positive attitude.
Where young people should start if they want to do this job
I started as a volunteer at my local football club, helping the kit man on a Saturday. That will be the best place to start, so that you can get some experience and see if it is a job you can see yourself doing in the future.
How do you think your job could change in the future?
I can't see my job changing dramatically. It has been this way for a long time and I think it will continue like this.