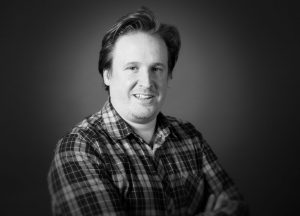 Christian Manz 
Visual Effects
What I do
I'm a creative director and visual effects supervisor at a company called Framestore. I recently worked on the movie Fantastic Beasts And Where To Find Them. My job sees me work with the director and all of the departments to help create the story and work out how the visual effects will work to tell that story.
I'm on set to help make sure that everything works; that's things like the green screens and stand-ins for digital characters and so forth. Then after we've filmed and moved into post-production, I help to guide all of the work to make sure that it's what the director wants. Then we present the director with all the finished shots for him or her to sign off. On Fantastic Beasts, we had an opportunity to design all of the creatures and all the action sequences. 

How I got my job
I started as a runner. I studied illustration at university, but I always knew I wanted to work in TV or film. I applied to be a runner at Framestore – I started out making tea. Bad tea! Then I slowly worked my way up and learned as I went. I've done lots of different stuff, from adverts and things, to now film. 
What I love about my job
I love storytelling. I love the fact that you're doing something that hopefully brings a bit of escapism to people watching it. I just love creating a story and a world. Fantastic Beasts was so much fun to work on. Creating the Niffler worked so well. That was a good example of doing lots of designing, animation studies, working with Eddie [Redmayne] and then Framestore to bring it to life. It resulted in a character that everybody loves. I was also very proud as I got to do the interior of Newt's case. It was all about designing and collaborating with lots of people in an 18-month period to come up with a ten-minute scene. That was one of the biggest achievements. 
What is difficult about my job
I think a difficulty in my job now is always trying to think of something new, always trying to do something no-one has ever seen before. That's tough. And the hours! We work pretty long hours.
I'm lucky I get to do something I enjoy, so you do get lost in it. You can virtually do anything in visual effects these days. I worked on the Harry Potter films, too. Obviously it's difficult, because everyone would have had their own ideas on what a Niffler looked like, so it's tough to make sure you please everyone.