Nadia Shireen
Author/illustrator
Most authors rely on someone else to illustrate their books, but Nadia is one of those annoyingly talented people who can do both!
What I do
I write and illustrate picture books. My readers are typically between 3-6 years old, though babies also enjoy chewing them. I spend a lot of time at my desk drawing animals, which is good fun! I also visit schools to do story sessions, and also perform at literature festivals. I sometimes write articles or blog posts, too.
How I got my job
I had been working as a magazine journalist since my early 20s, but aft er about ten years I felt I wasn't very good or interested in that world any more. So I started doing part-time courses in illustration while I tried to figure out what to do. At the end of one course, I displayed a picture book I'd made called Good Little Wolf. Some publishers really liked it and offered me a book deal the next day. I couldn't believe it!
What I love about my job
Almost everything. I feel so lucky. I love drawing and making up stories, and I love books and writing. I'm definitely a tired and grumpy grown-up, but I find it easy to remember what it felt like to be little.
I naturally feel on the side of the small person looking up at the big people. I also love going into schools and meeting children who get so excited about stories.
What's difficult about my job
It can be quite lonely. I work from home and go for hours without talking. I also can't pick and choose which bits of the job to do – I have to do all of it, even the boring bits like drawing leaves.
What skills I need
You need to be good at drawing, though everyone draws in a different way and who's to say what's 'good' and what isn't? It's important to understand what people want from a picture book: you want to keep the attention of little kids, and hopefully entertain them and even sneakily teach them stuff. Teachers, parents and librarians are all very interested in picture books, so it's good to keep them in mind, too.
Where should young people start if they want to do the job, too?
Go into a bookshop and start really looking at picture books… how many pages are there? How many words? How do the pictures and words work together on a page? Hopefully, the pictures and words both tell you different things, so that when you put them together in your mind, you get the full story. Then have a go at making your own! I make loads of 'dummy' books just using pencils and printer paper. I fiddle around with words and the order of pictures, then tweak and refine things until I have a story that flows.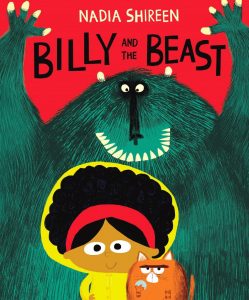 How my job could change in the future
Lots of people in the publishing world are worried about the impact of the internet and computers, but I honestly think that as long as kids like snuggling up to their mums and dads at bedtime, we will have picture books.
Nadia's latest book, Billy And The Beast, is out now.