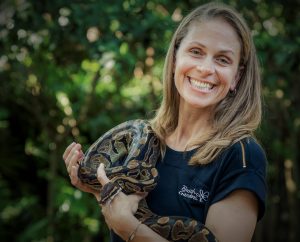 We ventured across the pond to meet some of the dedicated people who work at SeaWorld Parks & Entertainment, a leading theme park and entertainment company.  SeaWorld Parks is one of the world's foremost zoological organisations and a global leader in animal welfare, training, husbandry and veterinary care. In the latest film in this series, we meet Cara Martel, a Zoological Supervisor for one of the SeaWorld Parks – Busch Gardens in Tampa Bay, Florida. She works with amazing animals, right at the heart of one of the world's best theme parks, and yes, we are incredibly jealous!
What's the job?
Zoological supervisor.
Who would I be working for?
In Britain alone there are hundreds of zoos and aquariums, with a wide range of amazing creatures for visitors to learn about. Some might be quite small or specialise in one type of animal, but Busch Gardens Tampa Bay in Florida has more than 200 different species, from big cats like cheetahs, lions and tigers, to rhinos, sloths, giraffes, penguins and flamingos.
What do they do?
Manage a team that looks after the animals in a zoo. In a large zoo, they might take charge of one section, such as big cats or primates. Cara in this film looks after rhinos and hoofstock, which means any animals with hooves.
What sort of work is involved?
That'll depend on how big the zoo is, but these are some of the things that could be part of the job:
Deciding what the priorities are for your team and giving tasks to individuals or groups.
Meeting with the zoo's vets to discuss any problems that your animals are having, and working out how to deal with them.
Talking to groundskeepers to ensure the animals' enclosures are as close to their natural habitats as possible.
Working on zoological research, which may involve trips overseas to an animal's natural habitat.
Taking part in, or leading, the zoo's conservation programmes. This could also involve talking to zoo visitors about conservation or helping to raise money from the public and businesses so that the zoo can do more conservation work.
Helping your team with any problems they have, and helping them to get the experience they need to keep improving their skills.
What skills do I need?
Willingness to work outside in all kinds of weather – most places aren't as warm and sunny as Florida, especially in the UK!
The ability to be comfortable around all kinds of animals.
Excellent verbal and written communication skills, as you will need to manage a team efficiently.
Have meetings with senior management where you will need to explain clearly how your projects are progressing.
Talk to scientists, vets and a wide range of people who need to be kept up to date with the animals in your care.
Organisational and administration skills are also a must, as you'll have lots of things to keep track of, including the animals you're responsible for, your team, projects and budgets.
What qualifications do I need?
An interest in animals and the ability to pass this knowledge on to visitors and guests. Biology qualifications are very important, although you'll also need management and business/administration skills too.
What hours would I work?
Most zoos and theme parks are open seven days a week all year round, and a role like this would involve working varying schedules, including some weekends and bank holidays. The conservation impact you have and the time spent with amazing animals make it all worthwhile though.
Where would I work?
Wherever there's a zoo, which is pretty much everywhere!
How much would I get paid?
It's difficult to say, as it's not a common job and zoos are so different in size that responsibilities will change a lot between organisations.
Can I do work experience?
As with lots of zoo jobs, any practical experience you can get with animals is a good thing, so if there are local vets, zoos or farms you can help out at, get in touch with them and sound keen, and hopefully someone will give you a chance.
How might the job change in the future?
As more species become extinct, experts will have to decide which ones are most likely to benefit from being bred in zoological facilities. Places like SeaWorld Parks already invest millions of dollars conserving wild animals and wild places, as well as supporting critical conservation work on every continent. As technology develops, there will be more ways of diagnosing and treating animals, helping them to stay healthy for longer, so the care for the animals and people looking after them will have to adapt and keep up with these changes.
To find out about other exciting roles at the SeaWorld Parks, such as becoming a vet, an animal rescuer, or even a career as a theme park designer, then check out the rest of the films in the series!