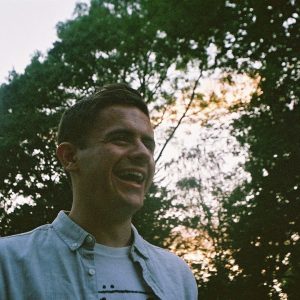 Dan Jordan
Designer
With First Careers you will meet lots of different people with lots of different jobs!
What I do
I'm a designer at First News, which means I make all the pages of the newspaper look neat and tidy after the editorial team finish writing them. I also design a lot of the marketing material that goes on our website, and a lot of the stuff that you see on our social media pages. So, I basically spend all my time being creative!
How I got my job
I started working at First News way back in 2012 as an intern for the editorial team, which meant I was writing the pages instead of designing them. I wasn't very good at that, though, so I decided to try out for the Junior Designer role (because I much preferred making the pages look cool… but don't tell our editor, Nicky!) and I got it. I went to university to learn more about design and production, and when I graduated I came back to First News as a fully-fledged designer!
What I love about my job
There's so much to love about being a designer! I'm very lucky to have been able to turn one of my passions into my career. I'm a bit of a perfectionist, so it's very satisfying for me to make the pages of the paper look perfect after they've been written! It's also really cool to see our newspaper in supermarkets when I'm out and about, having designed it a few days before!
What's difficult about my job
We work to tight deadlines, so sometimes the days can feel quite hectic and rushed, especially when there's a piece of breaking news half an hour before our deadline and we have to re-do the front page. But things like that make the job exciting.
What skills I need
I have to be focussed and keep a keen eye for detail, so that there aren't any mistakes in the issue. I need to be able to work independently, as well as part of a team. It's vital that I listen to my colleagues' feedback, positive or negative, so that we can deliver work that we can all be proud of, whether that's the newspaper or any other product we make.
Where should young people start if they want to do the job, too?
Immerse yourself in the world of design! It's such an exciting time to be involved in the field because companies are constantly competing with each other to make something fresh and new, and it's really inspiring to see what they're creating. It's also really important to learn as many design disciplines as you can: graphic design, animation, video production, web design, coding and programming, because they all complement each other.
How my job could change in the future
Design is always changing and evolving as people come up with new and innovative ways to share their ideas and concepts, so I don't really know where design is going next! Who knows, maybe I could come up with an idea that changes the world of design!
Anyway, I should stop dreaming and get back to designing pages of this week's issue!