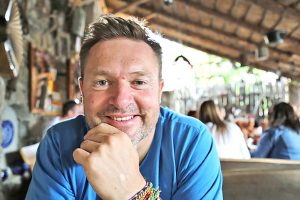 Paul Stephenson
Special Effects Supervisor
What I do
I am a Special Effects Supervisor and have spent the last 33 years creating physical effects for film and television. I've worked on six Harry Potter films and two James Bond movies, among others.
How I got my job
One year before I finished my degree course, I saw Star Wars: The Empire Strikes Back. This, I decided, was what I wanted to do as a job. Luckily for me, my aunt (this is a true story!) worked for one of the TV companies in London at the time and she was able to get me an interview with stage design. I told them that I wanted to do special effects and they gave me the phone numbers of two companies. That same day I had an interview and then got a job with one of them! 
What I love about my job
I love the fact that everything I do is different; no effect or project is ever the same. I love thinking outside the box. We are given total freedom to design and build things that do not fit into any kind of normal activity. It's 'serious play'. Everything is possible, nothing is impossible. I enjoy getting the best out of my crew, I relish the learning process and working as part of a team. I love the feeling of walking onto a film set for the first time and soaking up the atmosphere.
What's difficult about my job?
The challenge! Solving a request that appears to be impossible… Nothing is easy, but it's about making it look easy. Like creating a smoky atmosphere down a windy street or in a forest; getting wind on the actors' hair when the real wind is blowing the other way; blowing something up without actually blowing it up; warm rain!
What skills I need
First and foremost, enthusiasm and a desire to solve a difficulty. Think outside of what is normal, never give up. I think it's better to be able to do a few things and be a master of none; engineering, model making, woodwork, plumbing (yes, plumbing!), electrics, welding, painting, sculpting, fibre glassing, pneumatics, hydraulics, fire and pyrotechnics! Don't be afraid of hard work, the rewards are breathtaking!