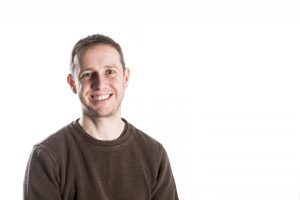 Steve Keene
Kitchen Designer and Installer
With First Careers you will meet lots of different people with lots of different jobs!
What I do
I'm a kitchen designer and installer, so I will meet with people who want a new kitchen and then try to design them a great kitchen at a price they want to pay! I also do other work around the home from time to time, such as hanging new doors.
What I love about my job
After I left university, I was an accountant for 11 years. However, after a stressful time, I decided to have a complete change. I booked myself on an eight-week intensive course to learn the basics, and then set up my own business. That was seven years ago now and, over those years, I've refined the areas I focus on.
What's difficult about my job
Being self-employed is not a stress-free option! There is a lot of work that goes into running a business and designing, supplying, co-ordinating and fitting a new kitchen, and things don't always go to plan!
What skills I need
Many! There's the running of the business, which requires organisation, finance and customer-facing skills. For each kitchen, you need to be a good communicator; you need to be able to plan really well; you need some creative skills to be able to design the kitchen; and you need to be skilled in using your tools and installing the kitchen.
Where should young people start if they want to do the job, too?
I took an unusual route into the role and it took seven years to get where I am today. A more common route would be to start working with established kitchen fitters to get experience – apprenticeships may be a viable route. However, some people solely focus on kitchen designs, and others solely on fitting, and can be either employed or self-employed, so there are a few things to consider.
How my job could change in the future
Trends will continue to change and new products will appear, so I need to keep aware of market developments, particularly as home automation continues to develop. I think as time goes on, people's expectations tend to rise, so it will be important to continue to get better and be able to offer kitchens in the latest materials and designs.