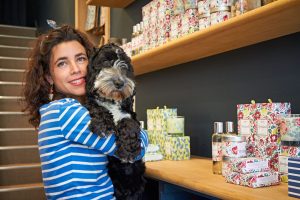 Sophie Chadwick
In First Careers you will meet lots of different people with lots of different jobs! BT has been finding out how technology is changing jobs and what skills people need to make the most of it.
What I do
I'm one of the co-founders and senior textile designer at Seasalt, a women's clothing and homeware brand. I create print designs for our new collections every month. Each one is inspired by Cornwall and is unique to us; you won't find them anywhere else. We design over 300 prints per year!
How I got my job
Our company began in 1981 when my husband's family went into a little shop in Penzance to buy some waterproof coats, but ended up buying the shop as well! I met my husband, Neil, in 2004 and shortly after we began to design clothing. We now have over 40 shops in the UK, so you might have seen one of them on your local high street.
What I love about my job
I love working with our team of creative and talented people, here at our design studios in Falmouth. I am passionate about print and pattern, textiles, and about colour, so it really is my dream job.
What is difficult about my job
There's never enough time! I get more and more ideas that I want to work up, but there are only so many hours in a day.
What skills I need
I did a foundation course in general art and design at Falmouth School of Art and then undertook a textiles and fashion degree at Winchester School of Art, studying knitted, woven and printed textiles for interiors and fashion. Apart from these creative skills it is vital to have good IT skills.
How do you use technology in your job?
I create all of my designs by hand, then I scan the designs in to Adobe Illustrator and make a repeat pattern with different colour options. I also play around with scale. We use a file-sharing website to send the artwork to our print mills around the world, and communicate through email and Skype.
How has that changed over your career?
I graduated in 1997 and went through my education managing to avoid computers, so when we started Seasalt I had to learn VERY quickly. My auntie was a textile designer and she would communicate with suppliers via fax or the telephone. I can't imagine doing that with all of the designs that we produce each year. Email and Skype are invaluable.
Where should young people start if they want to do the job too?
Gain a good general education, and then do a textile degree. I would also advise them to get as much work experience within the industry as possible.