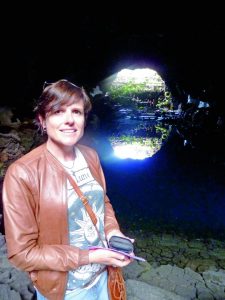 Jess Waters
Website Administrator
What I do
I run an unusual accommodation website called QuirkyAccom.com. We feature amazing places all around the world – from treehouses (everyone's favourite!) to train carriage hotels, from lighthouses to boats. I search out special places to stay on the internet and recommend them to other travellers.
How I got my job
I created my job. I had to use my imagination to create a job for myself. QuirkyAccom.com began four years ago. I'm lucky, as my husband is technical, so he helped me get started, and he keeps lots of visitors coming to the site.
What I love about my job
One of the best things is combining the fun of travel with work. I love that I work for myself and that I control my hours and ideas. I love giving suggestions of where to stay to holidaymakers, and I also enjoy connecting with the property owners and helping small businesses succeed. It's great doing such a positive job – helping people go on a special holiday!
What's difficult about my job
Not being able to go and stay in ALL of the places! There are so many fantastic and original places out there, from a dog-shaped guesthouse in America to a glass indoor/outdoor room in Spain. There once was a room kitted out like a hamster cage, including the wheel, for guests in France. The other difficulty now is working too much. As we get busier there is more to do and it's hard to know when to stop, especially as I work from home.
What skills I need
It's very important that you enjoy travelling! I also need to be very organised. I have to keep note of all the communication I have with my clients, so good customer service is very important. Good IT skills are essential too.
What advice do you have for working in travel and/or online?
It is good to get work experience in the travel industry and get used to dealing with customers and administrative tasks. Try approaching new growing businesses to see if they need an extra pair of hands. It is also important to feel passionate about an idea. Look for a gap in the market, ideally in an area that you have a natural interest in. When you launch an internet business, you need to be patient and keep at it. Keep believing in your idea!