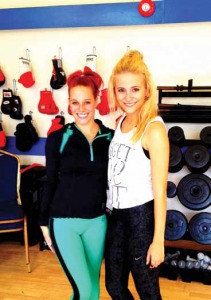 Hayley Newton
Fitness Trainer/Choreographer
What I do
I'm a celebrity fitness trainer and choreographer. Whether it's hitting the gym or throwing some dance moves, I tailor my workouts according to each client's individual needs to help get them into shape. Recently, I've been working a lot on music videos. One of these was for my client Pixie Lott. As well as helping her train in the gym, I was also asked to choreograph the video for her new comeback single. 
How I got my job
Fitness has always been an important part of my life but, to be honest, it was a natural progression. I never intended to become a personal trainer at the beginning. My first love was dancing so I started my career as a professional dancer. Staying healthy and strong was important for me getting work and avoiding injury. As my career progressed, I began to realise how closely the two [fitness and dance] were related and I began to be offered jobs doing both. I'm really lucky as I've been able to do both.
What I love about my job
I love helping people and the happiness that comes from helping them to achieve their goals.
What's difficult about my job
I'm just like everyone else, and we all have days when we just don't want to work out. But having the job that I do, working out is an unavoidable part of my lifestyle. Sometimes you just want a lazy day, but rushing around from studios, film sets and generally having a hectic schedule can make it difficult. That said, I do love my job and wouldn't have it any other way.
What skills I need
I need to be physically on my game at all times. Keeping fit, healthy, knowing the latest techniques, and most importantly the difference between the techniques that work and the ones that don't, is vital. However, I would say that the most difficult part is that I need to be on it mentally all of the time. This can be the tricky part. It might sound easy but that's actually a skill in itself. To wake up every day and motivate other people is part of my job and that requires patience and understanding.
Where to start
As far as being a dancer, you can start as soon as you can walk. If you want to be a personal trainer, then your body is your tool. It just means looking after yourself and eating well, really. You have to be inspiring for other people.