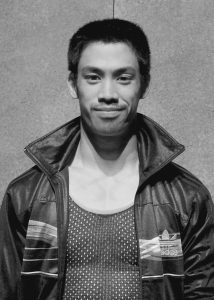 Forty Nguyen
Dancer
What I do
I work as a dancer for the contemporary circus crew Cirque Éloize, in their show iD.
How I got my job
I started taking breakdance classes at 18 years old. Beforehand, I was a skateboarder with little experience in dance. My brother changed my world the day he showed me breakdancing videos on YouTube. After that, I was determined to learn. I took breakdancing classes for three years. When I turned 21, I went to university to do contemporary dance.
What I love about my job
My passion has been all about dancing. When I turned my passion into a job, I became a professional dancer and a trained acrobat. Even if I had chosen a different path, I would still dance every day. I don't see my job as 'work'. It's about doing what I love with my friends, and loving what I do every single day.
What's difficult about my job
On tour you can, at points, hit a wall. Your muscles ache, your head hurts, your stomach groans and you can get injuries. That is the difficult part. As they say: "The show must go on!" You just need to climb over that wall.
Where to start
Attend dance classes, spend a lot of time training by yourself and seize every opportunity.