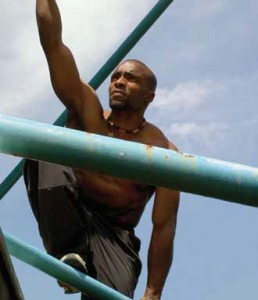 Sebastien Foucan
Freerunner
What I do
I'm a Freerunning Coach and an Inspirational Speaker. Freerunning is a type of acrobatics, which encourages participants to use their environment to perform. It's great for everyone, of all abilities. Freerunning is a discipline that started as child's play and continues as child's play! Young children know how to move and play whereas adults have to relearn this!
In terms of my public speaking I believe that understanding freerunning and how and why I jump, can help people think about their own attitude to choices, boundaries, difficulties and 'walls' in their own life, work culture and environment.
How I got my job
I'm self employed. I had a positive attitude and kept myself open to opportunities and through this and hard work I'm lucky now to be doing what I love. I grew up in a small town called Lisses in France where I was always involved in sport and physical activity and this was how my friend David Belle (founder of Parkour) and I developed Freerunning and Parkour in to what it is today. I stayed 100% focused on creating my Foucan Freerunning Academy and delivering my message and that is what got me to where I am today.
What I love about my job
Ultimately I love my job because every day I get to wake up and do what I love! Not everyone is lucky enough to do that. Through my academy and my public speaking I get to meet so many great and diverse people and pass on my message and vision.
What's difficult about my job
Being self employed at times can be difficult as I have to do everything myself. I have to continually push myself and the business and that can be hard work. But when you enjoy what you do as much as I do you are happy to put in the time and effort.
What skills I need
I need to have perseverance, a strong work ethic, belief and vision.
Where to start
Do it if you love it! It's a lot of hard work and takes persistence so it's not something to do if you would rather take an easy path. But, if you love working with a range of different people, want every day to be different and really believe in the message then go for it!
Freerunning should be practised in a safe place, with adults or professional teachers. Please do not try this at home and check with a parent/carer first if you would like to learn. For more information, visit www.foucan.com/ffa.