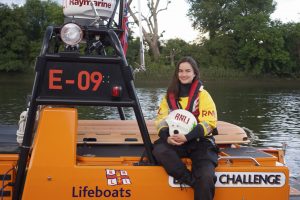 Holly Jackson Walters
Volunteer Lifeboat Crew Member
What I do
I am a volunteer lifeboat crew member on the Thames. I'm based at Chiswick Lifeboat Station, one of the four RNLI lifeboat stations on the Thames. The others are Teddington, Tower and Gravesend.
How I got my job
I am an actress and was doing a play in Sheringham in Norfolk when I discovered my first RNLI lifeboat. It had its own launch and recovery tractor that was able to go right into the sea and be completely covered by the water. It was very James Bond! From that point I was hooked! I found out that they had lifeboat stations on the Thames, so I emailed Chiswick to ask how I could go about becoming a volunteer crew member.
What I love about my job
I love being outdoors on the water, with my fantastic fellow crew members, surrounded by trees and birds and all the dramatic British weather! We train on every shift we do, to keep our skills up. That might include driving our boat, towing a broken-down vessel, or practising casualty care. We need to be good at lots of different things because we never know what emergency we may have to deal with.
What is difficult about my job
As a crew member I volunteer for 12-hour shifts and they can be day or night. If the emergency bell goes off at three in the morning, I have to make sure my brain is as switched on as it would be at three in the afternoon, because I have to get my life jacket and helmet on, get down to the boat, make radio calls and get the boat ready so we can speed off to the emergency as quickly as possible.
What skills I need
You need to be able to work well in a team, be fairly physically fit, enjoy working outdoors and not be afraid to get wet!
Where to start
There are lots of different ways of becoming a volunteer with the RNLI, not only being a crew member. You could help by organising a fundraising event, like a cake sale or doing a sponsored swim. We're always really happy to meet young people who are interested in being a part of the RNLI team, so come along and say hi!