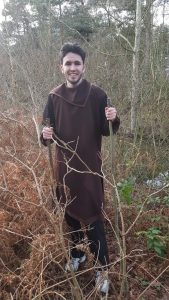 Jack Wood
Den Builder
What I do
I'm a 'den master' at Center Parcs, which is as cool as it sounds. I teach children and families how to build and decorate the best den possible in the middle of a forest!
How I got my job
I'm training at university to become a sports coach, so the skills I'm learning really tie into this role – learning to educate, lead and motivate people of all ages to get involved in a task and do it to their best potential. I'd already trained at Center Parcs Whinfell Forest to become a fencing instructor and when I learnt about this job it seemed the perfect fit for me. It's a mixture of being outdoors and interacting with people in an enthusiastic and attention-grabbing way.
What I love about my job
I love simply being outdoors, but the biggest joy in my job comes from experiencing the sheer imagination of children (and their parents and grandparents!).
Throughout a session, I like to ask children about the different parts of their dens, finding out why they have made the choices they have. One child had a chunky log in the doorway of their den and when I asked what it was, they told me it was a troll guarding the door! Another created a table in the middle and scavenged for feathers, which it turned out were for 'dinner' later!
What is difficult about my job
Only snow stops the den building activity taking place, so it really is an all-weather activity, which can sometimes be difficult. When it's raining heavily, I need to maintain my enthusiasm so that the den builders do, too.
What skills I need
A good imagination, cheerful personality and the passion to teach families how to build the best den possible! Anyone who gets the job will be taught how to build structures, so these three things are the most important.
Where should people start
Get outside and start building dens! The ability to show an understanding and passion for the great outdoors is a fantastic trait. Of course, having the ability to teach people and being a team player are always really helpful, too.
For great forest family adventures across the UK, have a look at www.centerparcs.co.uk.