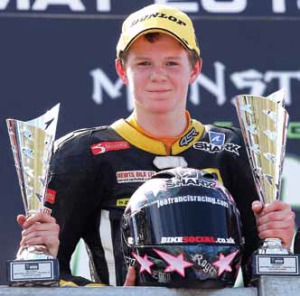 Joe Francis (aged 15 at the time of this interview)

Mini Moto Racer
What I do
I'm a student, but I also race a Honda Motor 3 in the Monster Energy Moto Star British Superbike Championship and compete in different motorcycling competitions.
How I got my job
I went to watch a friend riding on a mini moto and I thought it looked fun, so I started learning. From that day on I really enjoyed it and just carried on from there really.
What I love about my job
I love winning, competing and the adrenaline rush you get taking part!
What's difficult about my job
It's dangerous, which can be difficult. At the weekend you only get two twenty-minute sessions to set your bike up, so you have to try to get your bike set up and learn the tracks and just go from there really. You've got to try to be the fastest without making any mistakes.
What skills I need
I need to have fitness, a high level of concentration and the strength to perform under pressure. A bit of mechanical knowledge helps too, to be able to be the best and ride the fastest.
What it's like to compete at the championships
It's a good atmosphere, especially when the crowds are there. They support you, which just gives you that last little push. I just try to be as chilled out as I can. I get a little bit nervous just before, when the lights are about to go out, but otherwise I'm all right.
What I've achieved
In 2011, I won the Aprilia Superteen Championship. I've also won various other championships since 2008 and I'm hoping to do well this year at the Monster Energy Motostar British Championship.
Where to start
Basically, just try out a mini moto or mini bike and see if you like it and have fun. If you do, get yourself a good reliable bike and race it in a competitive championship, which will bring you on as a rider. Most of all, just have fun while you're doing it.
Joe  is sponsored by Bennetts, the UK's No.1 Bike Insurance Specialist, and BikeSocial.co.uk. To find out more about the riders sponsored by Bennetts, go to www.bennetts.co.uk. You can try mini moto racing from age seven and upwards, but please check with a parent or carer first.