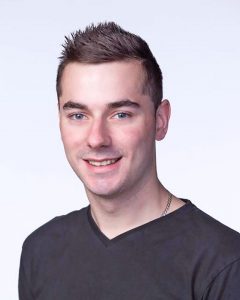 Adam Rogers
Disney on Ice: Worlds of Enchantment Cast Member
What I do
My job title is Ensemble Skater. This means I get to skate in the big group production numbers and work alongside the characters to tell the story of the segments within our show.
How I got my job
My friend has skated since he was a child and he got a position with Disney On Ice years ago. He came back home after his first Disney tour and took me ice skating. I loved it and knew that I wanted to skate in a production like this and have the opportunity to skate and tour the world. I got myself a coach and spent a few years training hard before and after school, dedicating my time to improving. I auditioned for Disney On Ice in May 2010 and started work on Disney On Ice Presents Toy Story 3 in the United States in July 2010.
What I love about my job
I love seeing the house lights inside the arenas fade out at the start of the show and hearing thousands of excited guests in the audience cheer and scream!
What's difficult about my job?
The hardest thing for me is being away from home for lengthy amounts of time. However, working so close alongside so many people, it develops into one big tour family and everyone sticks together and socialises together.
What skills I need
You need to be able to skate confidently and be able to perform to a high standard. Not all skaters on our show have the same standards: some are better jumpers and spinners than others. Some skaters are pair teams and do more adagio skating [pairs skating with lots of lifts], which the single skaters don't do in the shows.
Where to start
I would suggest going down to your local ice rink and working with a coach to improve your skating and performance skills. Once you're 18 and at a level where you are strong enough to apply to join our company, log on to our website to see what opportunities are available.