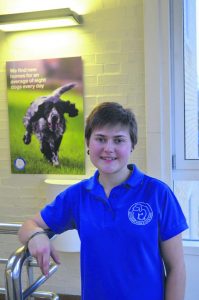 Ellie Chadwick
Rehoming Assistant
What I do
I work as a Rehoming and Welfare Assistant at Battersea Dogs & Cats Home. I work in the charity's Dog Intake Department, which is where all the dogs first come into the home.
How I got my job
After taking my GCSEs, I went to college, where I studied animal management. Having left college, I worked at a boarding kennel for just over a year and then started my job at Battersea.
What I love about my job
It is lovely to feel that I am helping to make such a difference to each dog. It is great to see them go to their 'forever' home. I also love the fact that each day is different, as you never know what challenges you will be faced with. It is particularly exciting at the London centre at the moment, as we are about to have our brand-new intake kennel block opened in March.
I am very lucky to be able to foster dogs. Usually these are dogs that find it hard to cope with life in a kennel and so I bring them home each day (on the train!). I am currently fostering my tenth Battersea dog!
What's difficult about my job
We do see dogs who are in very bad health or who have been badly treated. This can be upsetting. This means that we sometimes have dogs coming to us who aren't suitable for rehoming. It can also be hard to say goodbye to my foster dogs, but this is made easier by knowing that they are going to loving and caring homes.
What skills I need
You need to have a good understanding of animal welfare and care, so that you are confident when handling all types of dogs and dealing with different situations. Good communication skills are required because we assess the dogs' behaviour as a team and have group discussions about them. You should also be able to multi-task. Most of all, you should have a passion for improving the life of the animals.
Where should young people start if they like the idea of this job?
They should try to gain as much experience and knowledge as possible by volunteering and getting involved with dog clubs, such as puppy classes. The Kennel Club website has lots of useful information and they have a junior membership scheme for young people.