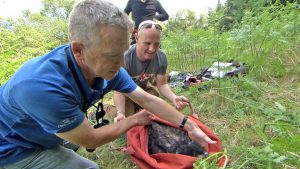 Dave Sexton
RSPB Mull Officer
What I do
I am the Mull Officer for the RSPB on the beautiful Isle of Mull on Scotland's wild west coast. I monitor scarce and threatened birds like white-tailed (sea) and golden eagles and corncrakes. I also help visitors to watch the eagles and other Mull wildlife responsibly.
Did you know the white-tailed eagle is the largest UK bird of prey? It has a wingspan of up to 2.45m (8ft), which is the largest wingspan of any eagle – that's about as tall as the tallest man who has ever lived. These birds can live for over 20 years.
How I got my job
I went to university and got a degree. In the summer breaks I worked for the RSPB on species protection contracts, such as guarding a little tern colony in North Wales. Then I got lots of experience at various sites and jobs around the UK before applying for my current job.
What I love about my job
Seeing eagles on a daily basis is a real privilege and helping them to nest successfully, safe from egg collectors and disturbance is just the best feeling. Watching the young eagles take their first flights makes it all worthwhile. Also, working on TV projects and meeting the crews and presenters is always good fun. 
What is difficult about my job
Not everyone loves eagles and they can sometimes impact on local farming businesses, so there can be an occasional conflict. But through discussions and compromise we usually find a solution.
What skills I need
You have to be okay with your own company as you work alone a lot (though my friendly black Labrador Cally helps me from getting too lonely!). You have to be resourceful [be able to think of ideas to problems] and well organised. Often you're a long way from any RSPB office, so everything is pretty much down to you to sort out.