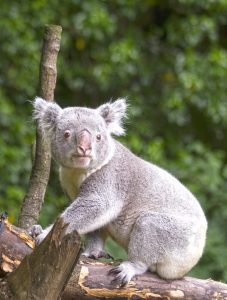 Lorna Hughes
Koala Keeper
What I do
I am a koala keeper at RZSS Edinburgh Zoo. I am the Team Leader for Primates, Hoofstock and Koalas, so I am responsible for the care of all of the animals in these sections, as well as all of the zookeepers!
How I got my job
I always knew that I wanted to work with animals from an early age, but wasn't sure in what way. When I was at university, I had to complete a 20-week work placement over the summer and RZSS Edinburgh Zoo was one of the choices. As I didn't really know much about zoos and the work that they did, I decided to find out, and absolutely loved it! That was 23 years ago and I still love my job as much now as I did then!
What I love about my job
I love being able to work with such beautiful and unusual animals every day – it is a privilege that I never take for granted. Every day is different and you never know quite what to expect. Coming into work and finding that a new baby has been born overnight is the best feeling ever! I love being able to work so closely with our three koalas, too – Goonaroo, Yabbra and Alinga. They are fascinating animals and they all have very different characters. There is always something new to learn about them. Koalas don't like noise or sudden movements, so it's a very calm, quiet area to work in, away from the hustle and bustle of the rest of the zoo. Plus everything smells of eucalyptus, which I love!
What is difficult about my job
Being a zookeeper means being outside in all weather conditions and involves a lot of dirty, heavy work, which can be challenging at times, particularly during the winter months. It can be difficult when one of the animals I care for is ill or injured and I worry about them constantly, even when I'm not at work. The most difficult part of working with our koalas is when we have to weigh Goonaroo, our biggest male [pictured].
We weigh each koala once per week (it's the only time we handle them), but Goonaroo is quite a challenge, as he likes to try to bite when he is picked up. We have to wear two pairs of gauntlets with him!
What skills I need
To be a zookeeper you need to be hard-working, observant and good at noticing small details. You must be calm and patient in all circumstances and be able to follow instructions accurately in order to work safely at all times. And you must be passionate about animals!