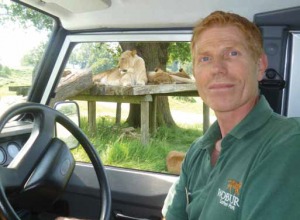 Bob Streatfeild
Woburn Safari Park Ranger
What I do
I work as a ranger at Woburn Safari Park, which means I look after the animals in the park and teach our visiting public all about them. I'm also in charge of our special VIP Experiences department, for visitors who want a unique behind-the-scenes tour of the park, going off-road in my Jeep and getting up close to our rhinos, bears, tigers and wolves! I'll never get tired of people's reactions when they're face-to-face with one of our predators; it truly makes my job the best in the world!
How I got my job
I was born in India and had 'the call of the wild' from a young age, as I was raised and brought up in the middle of nowhere! I moved to the UK with my family after living in India for 15 years, and got my first job as a zookeeper in northern England. Once I'd been a keeper for five years I moved to Woburn Safari Park and haven't looked back since!
What I love about my job
Firstly, and most importantly, I love all animals. I have a particular soft spot for elephants; I remember each and every one that I've worked with. Secondly, I love to be outdoors, come rain or shine. The quality of life you get from working outdoors or around animals can't be matched. I love being surprised by the type of people we get in the park and it really excites me.
No two days at my work are ever the same and that's just the way I like it!
What's difficult about my job
I enjoy almost every part of my job; the only thing I don't like is admin. Doing admin in the office is not how I like to spend my day. Also, being a safari park keeper, you sometimes need to make some very difficult decisions about the animals.
Where to start
If you want to make it as a keeper these days you need qualifications. Experience alone isn't enough; zoos and safari parks are always looking for qualified keepers with strong practical experience to back it up. My advice would be to start out with a qualification in animal welfare and get a part-time job at a zoo or safari park. Be eager to get yourself noticed and work hard to move your way up, and then you'll get to do what you love.