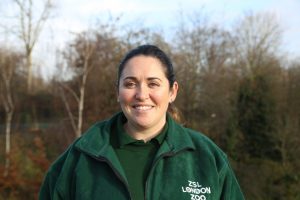 Amanda Guthrie
Zoo Veterinarian
In First Careers' interviews and online films, you'll meet lots of different people with lots of different jobs! BT has been finding out how technology is changing jobs and what skills people need to make the most of it.
What I do
I am the senior veterinary officer at ZSL London Zoo and ZSL Whipsnade Zoo.
How I got my job
I have been a zoo veterinarian for many years in the USA and I am a specialist in zoo medicine.
What I love about my job
I love that I learn something new every day and that no two days are the same. The zoo is such an exciting place to be, with so many different types of animals. I love that I can work with an elephant, frog, fish, monkey and snake all in the same day!
What is difficult about my job
Being familiar with the anatomy, physiology, natural history and common diseases of such a wide variety of animals. But that's also the really great part, because we never stop learning. It is also difficult when an animal dies; it's like losing a family member.
What skills I need
You must first be experienced and confident when treating animals. Vet school traditionally focuses on domestic animals, so it requires a lot of extra education to learn about exotic and wild animals. This job can be unpredictable at times, and exotic animals are very different from domestic animals!
How I use technology in my job
We use tools like ultrasound, digital radiography and endoscopy on a daily basis. That allows us to quickly 'see inside' an animal to understand why they may be sick. Also, all of our medical records are computerised, allowing us easy access (no more digging through filing cabinets) and email allows us to communicate with colleagues around the world about how to better care for our animals. The technology has improved animal care in lots of ways.
How that has changed over my career
When I first started, digital radiography (X-rays) was very uncommon and quite expensive; now it is much cheaper and quite common. Images have dramatically improved quality and we can send them around the world for second opinions.
Where young people should start if they want to do the job, too
Young people interested in becoming a zoo vet should spend time working with animals (domestic and wild) and work with vets to get an idea of the challenges.  Getting good grades in school and working hard to gain hands-on experience are both really important.
We run a dedicated Vet Careers Day here at ZSL London Zoo every year, which gives budding vets a taste of what it's like being a zoo vet (see zsl.org).