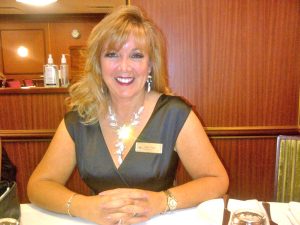 Tracy Clegg
Entertainment Manager
What I do
I'm the Entertainment Manager on board Britannia, looking after all the daytime activities and evening entertainment across the ship, including the theatre cast, guest entertainers, production team, bands and musicians, youth department and entertainment hosts.
How I got my job
I originally applied for the job through an advert in The Stage, which is a newspaper for the entertainment and show business industry.
What I love about my job
I love travelling all over the world while meeting happy people enjoying their experience of cruising. I also work with talented professional people, from bands and musicians to singers and dancers, plus celebrities and TV stars. My job is wonderfully varied and hard work, but fun and very glamorous!
What's difficult about my job
The difficult part is working away from my husband, parents and friends. It can sometimes be several weeks before I see them, and occasionally months of being away from home.
What skills I need
Previous experience in entertainment management, ideally in a large environment such as a hotel complex or holiday park that provides entertainment for families – I had worked for several years for a holiday company in Spain. Usually five years minimum is required.
Where young people should start if they want to do the job too
Ideally start by applying to work as an entertainment host for a holiday company and work up the structure into the role of Entertainment Manager. After several years you can then apply for roles with cruise companies.
How my job could change in the future
Perhaps it will involve more operational and strategic planning [making plans for the future and putting them into action], and less hosting.