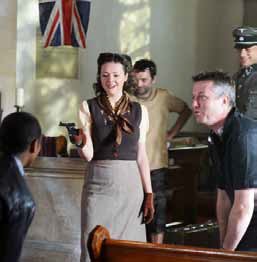 Joss Agnew
Drama Director
What I do
I work as a freelance drama director for various companies like the BBC and ITV. I've directed prime-time shows such as Law & Order: UK and Casualty, and also series such as Tracy Beaker, Wizards vs Aliens and Young Dracula for CBBC.
How I got my job
At about 14, I started making short animated films with a Super 8 camera. When one of them was shown on TV I decided to make that my career. So I kept making films, eventually with people not plasticine, until I managed to get an agent to promote me to TV producers. They opened the gate. My break into full-time drama directing was on Hollyoaks in 2001. 
What I love about my job
Putting a frame around an image to convey an idea is incredibly fulfilling. I guess I'm attempting to make sense of the world then share that interpretation with an audience. It's supplying entertainment, a distraction from everyday life.
However, within that spectacle, be it action, suspense or humour, questions can be asked that can affect us emotionally. Creating that experience can be deeply rewarding. Also, I get to collaborate with many superb human beings, which is a total privilege.
What's difficult about my job
Film-making takes time and there's often a lot you are being required to do, especially when the budget is not huge. Balancing that time pressure and the expectations from the production company, while getting the best possible performances and results on screen, while not freaking out, can be a challenge.
What skills I need
Directing is communicating. You are working with a big team of actors and crew for long hours in often difficult environments. So you need patience, ability to convey your approach, humour (that helps a lot), compassion and technical knowledge. Did I say patience? It is worth repeating that one…
Where should young people start if they want to do the job too?
There's only one way to find out if directing is for you. Make a movie. It can be ten seconds or ten hours. Today, film-making technology is everywhere. Shooting something to getting it on screen has never been so easy. If you have got an idea, shoot it. The power is in your hands. Then, once you've made something, repeat the process. The more you make, the better you'll get.