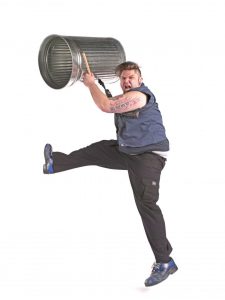 Andrew Patrick
Performer
What I do
I perform in the West End production of STOMP and am also the rehearsal director. STOMP is all about rhythm, theatre, comedy and dance. Eight performers use everything from plastic bags, bin lids and even the kitchen sink to create a cool beat!
How I got my job
I was a big fan of the show. I had actually left music school and was working at a company building and fixing computers when I found out about the open call in New York. It was like a fun workshop. I auditioned with about 1,200 people. I waited from 6am on the kerb outside and was still about number 50 to audition. They called me after two weeks and offered me a training contract. The rest is history.
What I love about my job
I love that I get to play music and give people an amazing experience every night. It is very fulfilling. Also a round of applause after a hard day's work is great.
What's difficult about my job?
It is quite physical, so my body is sore most of the time.
What skills I need
Well, you have to have good rhythm, be able to move well and also communicate and work well with others, without speaking!
When auditioning, it was like a fun workshop where they taught us aspects of the show and we got to freestyle a bit. They were looking for people with a good sense of rhythm and also who can work well together without speaking.
Where to start
I would say for this job and any career you want to do you should work hard at the skills it takes. Practice makes perfect and I do believe in the cliché that you can do anything if you put your mind to it. I'm a good example of that!
I did not have any formal training. I have however been performing on stage in theatre and in bands since the age of five and it is just something I have always loved to do. This really is my dream job – I'm one of the lucky ones.