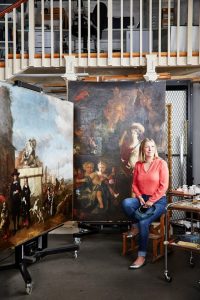 Rachel Turnbull
Senior Collections Conservator
For this week's career lowdown, we spoke to someone who uses her huge range of science skills and art history knowledge to restore paintings to their former glory.
What I do
I am the senior collections conservator for English Heritage. I look after their collection of around 1,500 oil paintings at about 25 different properties across the country. I check that they are in good condition, and if they are not, make a plan for how to treat them, either on site or in the studio in London.
When paintings come to the studio, I might remove dirt or old brown varnishes, mend tears in the canvas or fix flaking paint.
How I got my job
I have been very lucky and have worked in some great places, like the National Museum in Wales and the V&A in London.
Since being a very small child I enjoyed visiting big historic houses, so when the job at English Heritage came up I was delighted.
I now get to work behind the scenes at such amazing places as Audley End House in Essex and Kenwood in London.
What I love about my job
The best thing about my job is its variety; every day is different. I might be at an easel, painstakingly examining a painting under the microscope one day, then be working up scaffolding on site the next.  
What's difficult about my job
There is always more to do than we have time for, so we regularly audit the condition of the paintings so we can prioritise our limited resource wisely, treating those in the most vulnerable condition first.
What skills I need
Endless skills are required! You need to have good manual dexterity and colour vision, knowledge of art history, chemistry, physics, mechanics. I use microscopy, take photographs, write reports and update databases. You need to understand about the environment, how humidity and light affect paintings, question whether pollution, dust or mould could be problematic or not… the list goes on and on.
Where should young people start if they want to do the job, too?
There are various routes into conservation courses. At school you could focus on science or the arts, or ideally both. Conservation courses at degree level will then help you catch up on the areas of knowledge that you are lacking in.
I went into my course with an art history degree and had to do a lot of work to catch up with the chemistry, but other people were scientists and had to work hard at learning art history. The Institute of Conservation (ICON) is the professional body for conservators in the UK and it has lots of useful information, including links to many different courses, on its website at icon.org.uk.
How my job could change in the future
The methods and materials that we use to conserve paintings are continually being researched and refined. Who knows, in 100 years' time, perhaps there won't be any conservators like me and paintings will be cleaned by robots with lasers!