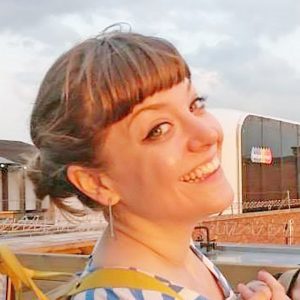 Kate Davies
Senior Editor
What I do
I'm a senior editor at Walker Books, one of the UK's leading children's book publishers. I edit all sorts of different books for children of all ages, from baby books to pop-up books to picture books, non-fiction and fiction. I recently edited an amazing book called Voices From The Second World War, published in association with First News.
How I got my job
After my GCSEs, I did two weeks' work experience at Penguin Books. I LOVED it and after that I knew I wanted to work as an editor. I studied English at university and, when I left, I got a job at Usborne Children's Books, where I wrote children's non-fiction books for four years. Then I worked at Scholastic, editing the Horrible Histories, before joining Walker as senior editor.
What I love about my job
I love how creative my job is – I brainstorm stories with my authors, help pick illustrators for picture books, and I even get to write books myself. I work on so many different kinds of books that no two days are ever the same. When I was working on Voices From The Second World War, I got to travel the country meeting war veterans and talking to them about their experiences and I edited articles by First News readers who had interviewed people for the book, too. But probably the best thing about my job is getting to work with so many great people – publishing is a really friendly business.
What is difficult about my job
Giving feedback to authors and illustrators can be tricky – you have to learn how to give constructive criticism about someone's writing without offending them. And you have to learn to juggle lots of different projects at once. You also have to have a keen eye for detail – we have to work hard to make sure there aren't any mistakes in our books.
Where to start
To be an editor, you need to have a really good sense of how stories work, and you have to LOVE reading books – you'll be doing that a lot. You have to be good at working with other people, and it's important to be tactful when giving feedback. You need to be a good writer – to write and edit non-fiction children's books you have to be able to explain difficult concepts as simply as possible, and you have to be good at spelling and grammar so you can spot any mistakes. It helps if you have a good visual eye, too, so you can give comments on the design of a book and help to choose illustrators.