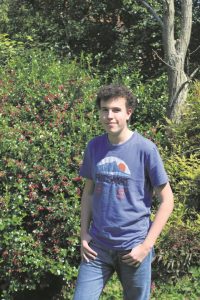 Mark Nichols
Teenage Author
What I do
I guess you could describe me as a teenage author, as I have just written my first novel, Hounded, and had it published on Amazon. In reality, I'm actually still in Year 10 at school.
How I got my job
I just went for it! I was inspired about a year ago by two authors – Andy Mulligan and Ally Kennen – who both came to my school one month to talk about life as an author. They both spoke so enthusiastically about writing that I figured I may as well have a go! I then had to get the book published – with the internet, Amazon and Kindle, it was more straightforward than I thought it would be.
What I love about my job
What I really loved about writing Hounded was the way that I could escape from the real world and totally submerge myself in the story. When I read books, there are always moments when I think: "I wish he'd done that instead", so the great aspect about writing your own book is that you shape the destinies of the characters, which is really satisfying!
What's difficult about my job
The editing was without doubt the most difficult and longest part. I got some great feedback from friends and family, which helped me shape certain aspects of the story. Despite being a painstaking process, it was well worth the time to make the book overall more engaging.
What skills I need
I think the most important skill you need is a vivid imagination to come up with an initial idea and then careful planning to develop the plot and characters. You must enjoy writing – I can't stress that enough!
Significant patience is also required for the editing side of things and real determination is needed to finish the book, as it does take real perseverance to keep re-reading the same sentences and paragraphs over and over again until you are sure you have them as you want them.
Where should young people start if they want to do the job too?
If you want to be a novelist, just go for it! Prepare well beforehand, draft your storyline, create some interesting main characters, and then just start writing! Some parts of the book may be more enjoyable to write than others, but if you do get through the book, edit it, get some feedback, and get it out there, it's a fantastic feeling!