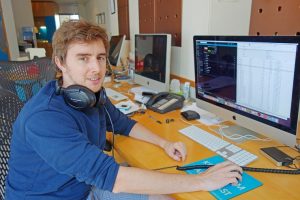 Oliver Jay
Music Supervisor
What I do
I am a Music Supervisor at Curved Arrow in London. We find music for adverts. My job is to speak to advertising agencies and brands to find out the style of music they would like on the advert, then search through music to suggest a selection of tracks that fit. If they like one of the tracks we suggest, we'll then speak to the artist's record label and music publisher and negotiate costs.
How I got my job
I've spent my life listening to a huge variety of music, and as much of it as possible. After school, I knew I wanted to be involved in music in some form so went to university to study music and business management. Following that I did various internships to find out what route to go down and eventually started working at Mcasso Music, who compose music for adverts. While at Mcasso, I started working more and more at their sister company Curved Arrow, who specialise in finding songs for adverts.
What I love about my job
It's fantastic to spend my days talking about music, listening to great songs and discovering new artists. It can be very rewarding seeing something that I have worked on appear on TV.
What's difficult about my job?
Sometimes adverts are made in a very short amount of time, so often there are some very tight deadlines! It's important to be able to act fast and make sure you send over good quality tracks in time!
What skills I need
You need to love listening to music, know lots of different styles of music, and have lots of attention to detail. We manage the legal contracts between the artist and the advertising agency so it is vitally important all of them are aware of, and have agreed on, how the music will be used.
Where to start
Start listening to as much music as possible – and not just chart music. Listen to music from around the world, listen to really old music, dance music, folk music, anything – there is so much music available to listen to for free on apps like Spotify. Try and get work experience at a music supervision company, and keep in contact with the people who work there.