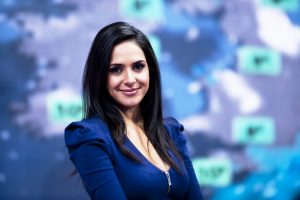 SKY's very own

Nazaneen Ghaffar told us all about her cool job!



We imagine you have to wake up pretty early, don't you? Talk us through your morning.
My alarm goes off at around 3.45am every morning but, luckily, I live quite close to work! I'm up, ready and in by around 4.20am. I come straight into the weather office and check all the latest data from the Met Office. I figure out the weather story for the next 48 hours, really. Then I head to make-up, so they can make me look normal and awake! Then I head back to the weather office to do some recordings. I have about 20 recordings to do throughout my shift. I also record for our website and apps, and I tweet and Facebook – it's all about online these days! We then go on air at 6am.
Wow! A busy day! Anything else?
I also write the weather for the Sky News website and, of course, the First News weather bulletin recording! That's actually what I do straight away, first thing in the morning. I record that, I clip it up and I send it off to the library.
You LOVE weather, don't you?
I love weather. I live and breathe weather. You are sat with weather! Weather is my obsession! Even when I go home I'm still looking up weather articles and checking the latest data before I go to bed.
How would you rate the weather for 2016?
I think it's been quite a mild year, especially through autumn. It's been quite settled, really. 
In terms of presenting, how has weather changed throughout your career?
One of the biggest changes, in terms of presentation, is that we use video screen instead of green screen now, so we don't have to wave somewhere and hope we're pointing to Scotland!
What's your favourite type of weather, Naz?
I love that question! I prefer the season of spring – I'm not one that likes it too hot. It's warm, though, it's sunny and it's dry.
What was your favourite subject at school?
I loved the sciences. I did all the sciences at GCSE. I also did geography and maths. I even did theatre studies at A level, randomly.
And which subjects are useful if you're looking at a career in weather?
Geography's the big one. You don't have to, but it would be really helpful. Physics can also be quite helpful.