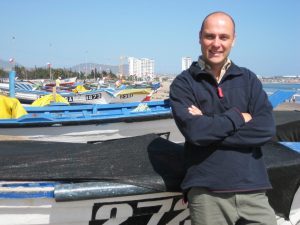 Oli Yates
RSPB Programme Manager
What I do
I work for the RSPB. I'm the programme manager for the Albatross Task Force. This is a team of conservationists who work at sea in southern Africa and South America to prevent seabirds being killed accidentally during fishing operations. Albatrosses are long-lived seabirds that have massive wingspans and feed on fish and other sea animals.
Their numbers have been falling because they are attracted to bait [food] on the long lines of hooks put out by fishing boats. They can get trapped on the hooks and drown. As a result, 15 of the 22 types of albatrosses are threatened with extinction. We work with the fishing industry to stop the birds getting caught, using 'bird scaring' lines of flags, or special weights on the fishing hooks that make them sink out of the reach of albatrosses.
What I love about my job
I work with an incredible team. Collaborating with an interesting and diverse range of people on a globally important conservation cause is as thrilling as it is challenging. I love finding ways to overcome all the difficulties. 
What is difficult about my job
We have an overwhelming task in trying to help the albatrosses. Trying to manage how we approach that task and stay really motivated is tough. The team is working in very remote locations, across eight countries, five time zones and three languages, so it can be tricky! 
What skills I need
Good communication is very important for our team. If we are able to communicate well with each other, then everything else falls into place. Language skills are important, as well as buckets of patience and understanding. Working at sea is hard, so understanding those conditions and knowing how to support and motivate others is crucial.
Where people should start if they want to do the job, too

Marine conservation is an exciting career path, and because of that there is a lot of competition. Getting relevant experience at an early stage is important, so I would encourage young people to get active as soon as possible! Learn to swim, snorkel and dive – you can't understand the ocean if you don't immerse yourself in it!