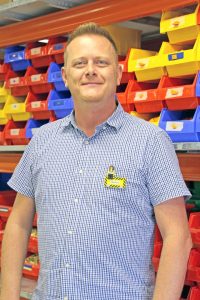 James Bailey
Model Shop Manager
What I do
I am the Model Shop Manager at LEGOLAND Dubai.
How I got my job
When I saw that this position was available, I was very excited, as I have been a fan of LEGO since my childhood. I sent off my CV and was happy to be invited for an interview. I was asked lots of questions about LEGO and had to build a story using some LEGO bricks, to see how creative I was. From there, there were two more interviews to make sure that I was a suitable candidate. It was quite a long process but I was extremely happy when they offered me the job. To work in an awesome environment like this is every child (and adult's) dream come true.
What I love about my job
I love being creative and bringing new ideas to LEGOLAND Dubai for the guests, especially children, to enjoy.
What is difficult about my job
It's hard to keep the models clean!
What skills I need
You need to be dedicated, have a passion for building with LEGO bricks and a creative mind.
Where to start
Start building in your spare time! We usually start apprentices off with simple tasks like cleaning, and then train them in all areas of the model shop/building.