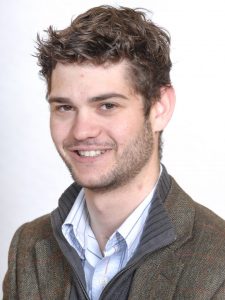 Kit Franklin
Agricultural Lecturer
In First Careers you will meet lots of different people with lots of different jobs! BT has been finding out how technology is changing jobs and what skills people need to make the most of it.
What I do
I am a lecturer in agricultural engineering at Harper Adams University. As well as teaching students, I am involved in researching how robots can be used to improve farming.
How I got my job
I studied agricultural engineering at university, then spent some time travelling the world looking at agricultural systems in various countries. I then worked as a researcher of agricultural technology at Harper Adams, which was a stepping stone to becoming a lecturer. 
What I love about my job
As a researcher, I love solving problems, using novel methods. Every day is a learning day, so while my university studies have ended, my knowledge keeps growing. As a lecturer, I love helping students to develop and explore their areas of interest in agricultural engineering, and fostering their passion for the industry.
What is difficult about my job
I'm very busy all of the time! There are always new developments in agricultural technology for me to keep up with.
What skills I need
Being an engineer is all about problem-solving – you need to be able to understand the environment you are working in, the situations you face and the outcomes you want to achieve.
How do you use technology in your job?
My job is all about technology! I get to work with some really cool gadgets. At the moment I am part of a team working to farm an entire field of crops without stepping foot in it. We're using automated farm machinery (robots!) to do all of the work. We've got robotic tractors and drones, all operated remotely from a high-tech mission control. It's like our own mini NASA!
How has that changed over your career?
I'm still quite young, and early in my career, but technology being used within agriculture and food production has advanced rapidly in recent years. For example, drones are now regularly used on farms, which would have been unheard of five years ago.
Where should young people start if they want to do the job, too?
Look out for opportunities to get involved in design and engineering at school, whether in lessons or in a club. Then look at specialising in agricultural engineering at university. It would be helpful to gain an understanding of farming and food production, but you don't have to come from a farming background to have a career in agricultural engineering.