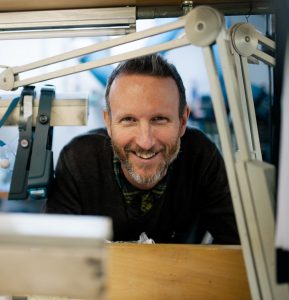 Jon Dibben
Jewellery Designer
What I do
As a jewellery designer, I spend my time dreaming up ideas for pieces of jewellery and then working out how to make them – with help from a talented team in my workshop. We make sure we buy our materials from responsible sources, and we were one of the first workshops licensed to work with Fairtrade gold and platinum. This helps small-scale miners and their communities, as well as the environment.
How I got my job
I stumbled into jewellery by accident. I didn't even think I was creative till I went away to Greece, during a gap year, when I was 19. I met lots of people making simple jewellery and was soon hooked. When I returned to England, someone offered me a workshop. Now, 25 years later, I am still there, although it has changed a lot in size and image.
What I love about my job
I feel very lucky to be making a living from being creative. I  nd it really satisfying to physically make something. I also like working so closely with the people who buy or commission my designs. Another great part of the job is looking for unusual and beautiful gemstones and diamonds – I am quite a hoarder of treasure!
What's difficult about my job
Having the ideas is the easy bit – working out how to make the design that you have imagined into a wearable 3D piece of jewellery is the tough bit!
What skills I need
A good imagination. Being good at drawing and making things with your hands really helps. A lot of jewellery is designed on the computer now, so having knowledge of 3D design and CAD programs is also very useful.
Where should young people start if they like the idea of this job?
There are two main routes into jewellery design and making. The first is via a degree in jewellery and silversmithing, which is a more design-orientated path. The second, for those who want to take a more practical approach, would be an apprenticeship, probably with a day-release for a college course.