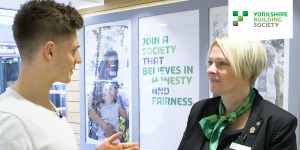 You've probably heard of building societies, but do you know what they are, and how they're different from banks? And what's it like to work in one? We sent a junior reporter to investigate, so watch the film to see what he found out, then dive into the details below to learn more about these crucial organisations on our high streets.
What's the job?
Building society manager.
Who would I be working for?
There are more than 40 building societies in the UK, with around 1,500 branches. The Yorkshire Building Society has 178 branches in towns and cities across the UK.
What do they do?
Building societies let people have current and savings accounts, so that they can keep their money safely and access it if they need cash or to pay bills, or just want to save it for the future. They also give people loans or mortgages (a big loan that helps someone to buy a house), and sell insurance and give financial advice.
The difference between a building society and a bank is that each customer of a building society is known as a 'member', and they all have a say in how the society is run. Banks have shareholders, who are people that have put in lots of money to own a portion of the bank. Banks are run to make a profit for shareholders, whereas building societies don't have that same pressure to make lots of money.
What sort of work is involved?
Managing your branch's budget and making sure that targets are hit.
Making sure that your staff understand any new services that the company introduces.
Hiring new staff and organising their training.
Handling any complaints that are passed on to you by your staff.
What skills do I need?
Excellent people skills, as you will have to manage your own staff and deal with customers.
Great written and verbal communication skills.
Ability to motivate and lead a team.
Computer skills, including use of spreadsheets.
And very importantly, you need to be good with numbers!
What qualifications do I need?
The minimum you'd need is five GCSEs (or equivalent) at A*-C (or 9-4 in the new system), which would need to include maths and English.
Suitable degrees would include things like maths, business studies, economics, or accounting, but building societies and banks offer management training schemes to graduates, where you will learn all you need to know.
Even if you don't go to university, it's still possible to start at a more junior level and work your way up the company, with the help of training courses.
What hours would I work?
A standard week would involve working roughly 9-5 between Mon-Fri. Many branches are open for a half day on Saturday mornings (from 9am to noon), so you would have to work some of those.
Where would I work?
Everybody needs money and financial services, so there are building societies and banks in pretty much every town.
How much would I get paid?
A branch manager could expect to get between £30-40,000 a year, depending on their experience and the size of the branch. Senior managers who move on to manage lots of branches or work in the company's head office will be able to earn more.
Can I do work experience?
Yes. Lots of building societies take people on for a week or two, often from Year 10 and above. Students at university can often do a longer internship in the summer holidays.
How might the job change in the future?
More and more of us, especially younger people, are dealing with their simpler money matters on computers and smartphones, so branches may have more time to speak to customers about the more complicated things, such as mortgages, that people usually prefer to talk to someone in person about.
For more information, have a look at www.ybscareers.co.uk