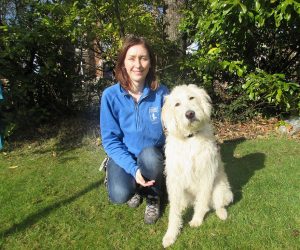 Katie Roots
Guide Dog Trainer

With First Careers you will meet lots of different people with lots of different jobs!
What I do
I work for the charity Guide Dogs as a guide dog trainer. My job is to teach our dogs valuable skills that will help them to support someone living with sight loss.
I work with our dogs when they're around 13 months old and help them learn important lessons like stopping for road crossings, avoiding obstacles, and good behaviour, like not jumping up.
How I got my job
I studied animal behaviour and science at university and then worked within the kennels for Guide Dogs at the National Breeding Centre in Warwickshire, where I learned lots about caring for dogs and the work of the charity. This experience helped me land my job as a guide dog trainer.
What I love about my job
Working with our dogs, as each one is special in their own unique way! It's very satisfying knowing that the work I put in to training a dog one day will help someone with sight loss confidently do everyday things like go shopping or travel to visit a friend or family member. If I ever see one of the dogs I trained out guiding their owner, I feel full of pride.
What's difficult about my job
Saying goodbye to the dogs I train can be hard, but I know they are going on to do bigger and better things, which makes them leaving that bit easier.
What skills I need
You need to be patient, as there can be a lot of repetition involved in training a guide dog. It's also important to be consistent, as the dogs need to familiarise themselves with certain commands; sticking to a training plan is important, so as not to confuse the dog. A love of the outdoors is always helpful, as we're often outside training the dogs!
Where should young people start if they want to do the job, too?
Useful experience is always a good place to start. This can be gained through volunteering at a relevant organisation so that you can get an idea of what the role is like.
How my job could change in the future
I think guide dog trainers will work more closely with those living with sight loss, rather than solely working with the dogs. I have more contact with guide dog owners in my daily job role now than I did ten years ago, so the change is already happening.