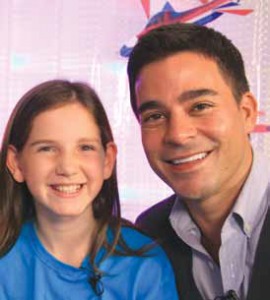 Jason Henkel
Casting Director
What I do
I am the director of casting for Disneytoon Studios in America. I oversee the casting and recording process of actors for all the roles in a film – most recently for Planes and Fairies films. My job is a collaboration with the directors and producers on each film to find out what they are looking for and then I provide them with a selection of suitable actors for them to choose to make their final decision on casting.
How I got my job
I had an acting and singing background and always thought casting would be an exciting field to work in. I began my career at Disneytoon Studios working in music production. Because I love working with people and enjoy working with actors, when an opportunity opened up in the casting department I jumped at it. Eventually I was promoted to the head of the department.
What I love about my job
One of the best parts of my job is getting to work on films that people throughout the world get to enjoy. Growing up, my sisters and I watched Disney films, so I feel so fortunate to work for a company and on films that have been a part of my childhood. I also love working with actors – nothing is more exciting than telling someone that they booked the role. I hear from many actors that playing an animated Disney character has always been a dream of theirs, and helping in a small way to make that happen makes me very happy. Disneytoon Studios is such an amazing place to work. I have a great team I work with, and it feels like a big family here.
What's difficult about my job
I think one of the hardest parts about my job is having to tell an actor they didn't get the part. There are a limited number of roles with a large group of people auditioning for them. Rejection is unfortunately a part of the business.
What skills I need
I would tell someone with a strong interest in casting (and a love of actors!) to watch a lot of different films, TV shows and go to the theatre to get to know different types of actors, and when you are old enough try to intern at one of the big casting agencies. It's a great way to learn about the business and make contacts in the field. At the beginning, no job is too small. It's all about learning. And if you love what you do, the money won't be as important. I love coming to work, so it never feels like a job.
Want to learn more about film? Get involved in the National Youth Film Festival, which enables pupils and teachers across the UK to enjoy a variety of films, engage with film culture and learn about the film industry. See nationalyouthfilmfestival.org.
Want to learn more about what a casting director does? Head to filmclub.org to watch an interview with Jason.