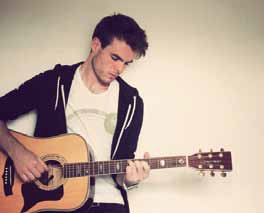 Ross Chapman
Guitarist
What I do
I'm a session guitarist, and at the moment I'm playing for number one selling UK pop/ R 'n' B artist Conor Maynard. I play live with him here in the UK as well as abroad on all sorts of occasions, like his tour shows, festivals, TV and radio appearances, plus loads more!
How I got my job
Despite having gone through the audition process for various artists before this, I actually ended up getting this job through my flatmate, who is also a session guitarist. He was asked to do a one-off performance with Conor at Channel 4's T4 On The Beach festival, but couldn't make it, so he asked me if I'd be up for it. I jumped at the chance and went and played the show, then a few days later I got an email asking if I'd like to join Conor on tour – and I've been playing for him ever since!
What I love about my job
The main thing I love about my job is that I get to do my number one hobby for a living. I get to play guitar in front of thousands of people in amazing venues all over the world – and I get to meet and make friends with all sorts of interesting people along the way. I also love not having to carry all of my equipment on and off stage… it might not seem as amazing as the other stuff I've mentioned but, after years of gigging independently with bands and unsigned artists, that's probably the main thing that makes me feel like all the hard work has paid off!
What's difficult about my job
The hardest part of my job is dealing with the crazy schedule. When we're on tour the travelling is incredibly tiring and seems neverending!
There's a lot of flying, and there are so many long journeys on the road – sometimes only for us to turn up and play just one song before we're back on the road again. All of this makes eating and sleeping properly quite difficult, but it's totally worth it!
Where to start
To anyone interested in becoming a session musician I'd say the most important starting point is location. So much session work comes from being around other musicians.
Once you're in the right place you need to get out to gigs, socialise with the other players and ask them how they got to where they are. Find out who the big fixers are and then you can start figuring out how to get on their radar!