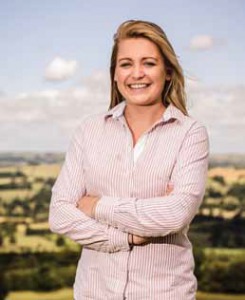 Ellie Keeble
Sausage Maker
What I do
I am a sausage maker and help my mum, dad and three brothers run our sausage company called HECK. I get involved in lots of different things and every day is different. Some days I'm working in the factory making the sausages and checking that everything is ready to get them out to Tesco where they are sold. Sometimes I'm on the road travelling to lots of different food shows and agricultural shows where we sample and sell our sausages. I also help my parents manage the farms where we get the pork to make our sausages. At the moment we are working on some new recipes, including a square sausage which we've nicknamed the 'squasage'! We're also making a chicken sausage which will be available to buy later in the year.
How I got my job
My mum and dad have been making sausages for 15 years and I've grown up around their food and farming businesses. I originally thought about training to work with horses, which is another passion of mine, and starting up my own equestrian business. But when my family decided to start HECK last year, they asked if I wanted to be involved and I jumped at the chance to be part of the family business.
What I love about my job
I love the fact that every day is different and there are plenty of things to get involved in. Travelling around the UK means you get to see different towns and cities, and you get to meet lots of people, which is great for building your confidence in speaking to people and learning how to communicate effectively. I'm also outside a lot helping to look after our pet pigs and I love getting lots of fresh air. I've never wanted a job where I sit in an office all day, so being part of our family business is brilliant for me. Helping with the sausage recipes is good fun too, and Mum and I will often tinker in the kitchen coming up with new ideas which we test out on family and friends – some work and some don't!
What's difficult about my job
Being part of a family business has lots of positives and you're all in it together, so you can really muck in, but it doesn't come without its challenges. Often the hardest part is everyone having a view and thinking their way is the right way – our kitchen round-table meetings can get a little heated sometimes. But we have to take a step back and collectively think about what is right for the business and not necessarily what we'd like to do as individuals. Luckily our parents are really good at making sure everyone's thoughts and ideas get heard. Plus we all have different roles within the business and we try to stick to them, so we don't get any rivalry that way.
What skills I need
You have to be very organised and enjoy working as part of a team. Be prepared for hard work and to start at the bottom. You also need a level head to cope with things that don't quite go to plan. Most importantly, though, be passionate about what you do. There's no point doing something unless you really love doing it.