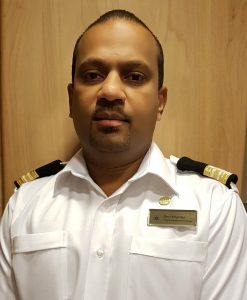 Ben Fernandes
Food and Beverage Manager
What I do
I'm the Food & Beverage (F&B) manager. I'm in charge of making sure thousands of guests who cruise with us every year have diverse and amazing foodie experiences, from casual dining to speciality restaurants, and cocktails by the pool to formal nights with gala menus.
How I got my job
I went through the interview process, but I've been with the company for 16 years and gained knowledge of the F&B operations so that I could progress further.
What I love about my job
I love everything I do for the business. We pride ourselves in giving our guests the ultimate foodie experience through the choice of dining options on board – all at an extremely high quality – across our fleet. I also love working with our Food Heroes Marco Pierre White, James Martin, Eric Lanlard, Atul Kochhar and Olly Smith, who all bring something unique to dining on board P&O Cruises. In my role, I represent the brand and it gives me pride to let the world know this is the life we give our guests.
What's difficult about my job
Meeting guests' expectations can be difficult, as every individual has different tastes and likes, which is why we offer so much choice on board each ship.
However, we continue to strive for the best by working with each of our Food Heroes and chefs to develop menus and deliver high-quality food and dining, exceeding the expectations of the guests.
What skills I need
Management skills, IT skills, good communication skills. You have to be professional towards the job and in dealing with guests.
Where young people should start if they want to do the job, too
You could start from scratch to learn the basics and what goes on behind the scenes. You can also do a hotel and hospitality management course, with some work experience, to gain exposure as a F&B cadet with on-board training. [See the careers website at www.carnivalukcareers.co.uk.] 
How my job could change in the future
Things are changing each year, with new ideas and concepts to be put into practice. We are always developing our menus and delivering new foodie experiences to our guests.