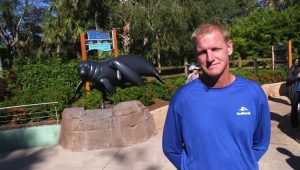 Sponsored feature:
For our latest series of First Careers films, we ventured across the pond to meet some of the dedicated people who work at SeaWorld Parks & Entertainment, a leading theme park and entertainment company. SeaWorld is one of the world's foremost zoological organisations, with a legacy of animal rescue spanning more than 50 years. In this film, we meet some of the people who help to rescue and rehabilitate sick or injured sea creatures, then release them back into the wild when they're back to full health.
What's the job?
Manager, rescue operations.
Who would I be working for?
SeaWorld, one of the world's foremost zoological organisations and a global leader in animal welfare, husbandry and veterinary care and renowned for rescuing and rehabilitating marine and terrestrial animals, with the goal of returning them to the wild.
What do they do?
The manager of rescue operations oversees all of the staff who go out to rescue ill, injured, orphaned or abandoned marine and terrestrial animals. This role works very closely with SeaWorld's veterinary staff.
What sort of work is involved?
Feeding, cleaning and caring for animals.
Looking after sick or injured animals.
Cleaning out pools or habitats, so it's crucial that you don't mind getting dirty!
You may need to deal with visitors, update records or do other paperwork relating to the animals in your care.
You will have to go out to try and bring sick, injured or stranded animals back to SeaWorld. This could be anything from rescuing a shark-attacked dolphin, to returning endangered sea turtles to their natural environment.
What skills do I need?
You must be able to handle animals with confidence and patience.
You could be looking after animals that are injured, very sick, or have to be put to sleep, so you must be able to cope with distressing situations.
The willingness to work outdoors in all kinds of weather.
Passion and dedication to animals are essential.
Work irregular/long hours.
What qualifications do I need?
There are college courses and apprenticeships in areas like animal care that you can take, although many people get into these kinds of jobs by gaining practical experience or learning on the job.
The leaders of animal rescue teams will often have something like a veterinary degree. Watch our film of a vet at work if you think that's the career for you.
What hours would I work?
Looking after animals will often involve early starts, late finishes and weekend work, and you may work on a shift system, where you work different hours depending on what week it is.
Where would I work?
SeaWorld has several parks in America, including locations such as Florida and California.
How much would I get paid?
This can vary and depends on the size of company you work for. Many animal care jobs are not always particularly well paid, but most people would say they do it because they love animals rather than because they want to earn lots of money. If you're starting out without much experience, the pay is unlikely to be much above the minimum wage.
Can I do work experience?
Every organisation is different, so it's worth getting in touch with any shelters, farms, stables, zoos or vets in your area to see if they offer work experience.
How might the job change in the future?
Animals will always need to be rescued and looked after. As technology improves it will allow us to find out more information and help track animals in their natural environment, which can only be a good thing. Most experts think that climate change will have a big effect on a wide range of species, so certain types of animals might need more of our assistance in the future.