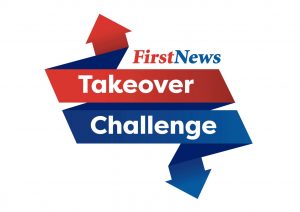 First News Takeover Challenge 2019
The Takeover Challenge puts children and young people into real-life decision-making positions in organisations. Children gain a valuable insight and gain experience of a workplace, while organisations benefit from a fresh perspective on their work.
In the last two years alone, nearly 100,000 children have taken part. They've stepped into the shoes of a wide range of adult jobs, including everything from MPs, mayors, TV presenters and teachers, to chief executives, business leaders and government officials.
From this year, First News is leading the way in supporting schools and others to take part in Takeover and create real and lasting opportunities.
While Takeover Challenges can happen in many ways and at many times, this year's #TakeoverChallenge Day will take place on 29 November 2019. Support materials and advice to kick-start your own Takeover Challenge can be found below.
Takeover Challenge Information Pack
Permission letter to be absent from school
Sample letter for young people to send to organisations
Sample letter for organisations to schools and youth groups