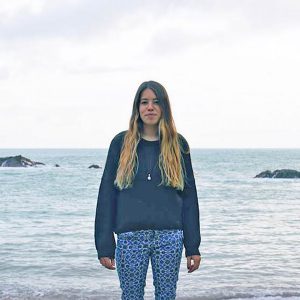 Rose Eads
Graphic Designer
What I do
I work as a Graphic Designer at Animal – a UK action sports lifestyle brand. I draw the designs for clothing on womenswear and girlswear. These then get placed onto bags, books, hats, accessories, skateboards and lots more!
How I got my job
I went to university and studied illustration and graphic design. I worked at Animal in the Bournemouth and Poole stores for around five years while studying, to pay for the four-year course. I was offered a great opportunity to do work experience with the apparel design team for six weeks. I soon discovered this was what I really wanted to do as my career and began to focus on getting that job I always wanted with Animal. I actually left university before graduating but received a National Diploma and a Foundation Degree after studying for three years. I still worked hard after I left and hard work pays off – you have to believe in yourself and your talents!
What I love about my job
I love that I can go to work and do what I am passionate about. I love to draw and this job allows me to be imaginative. I love to experiment, explore new things and discover new ways of working as an artist. I get to work with lots of talented people that share my creative abilities and we talk about surfing now and again and hit the beach in the summer to catch some waves. The lifestyle Animal represents is the lifestyle I love.
What is difficult about my job
When we are reaching a deadline at the end of a project it can get very busy. I will get a brief and only have a short amount of time to do my work. In fashion we work two years ahead, so it can be hard to predict what will be popular that far ahead!
Where to start
Start with a pen and paper. Draw, draw, draw. Find out what you like. Do you like painting? Or photography? Drawing people or patterns? You don't have to study at college or university for my kind of job, but it does help in a job interview to show that you can already finish a difficult project and that you worked hard to get a good grade. Artists tend to create a folder called a portfolio and choose their best work to put in it. Take this to a job interview with a great CV and show that you are passionate about what you do. Above everything, though, I strongly believe that if you have talent and really believe you can do something, then you and you alone can make it happen.